The Vesper – A Cocktail Story
Just like his nineteenth-century Victorian predecessor Sherlock Holmes, Bond epitomized modern sophistication and savoir-faire. A notorious liter-a-day vodka-drinker himself, Fleming introduced Bond's impeccable taste in food and drink throughout the pages of his first thriller, Casino Royale. The Vesper-named after the story's heroine Vesper Lynd was Bond's) and Fleming's) personal recipe for a Medium-Dry Vodka Martini. The choices of vodka and vermouth were important too: grain vodkas (Russian) were preferred over potato vodkas (Polish) Kina Lillet Blanc (a French aperitif similar to vermouth) replaced popular Italian vermouth like Cinzano or Martini&Rossi. Bond insisted his cocktail had to be shaken not stirred until ice-cold, and serve with a large slice of lemon peel in a champagne goblet.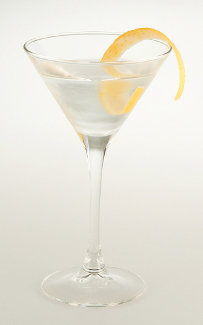 Although the Vesper was never mentioned again (when Vesper die, the name seemed to die with her), Bond did imbibe Martinis in other novels and in almost every one of the nineteen films starring Sean Connery, Geor Lazenby, Roger Moore, Timothy Dalton, or Pierce Brosnan in the starring role. Why has bond remained so popular in a time when trends emerge and fade monthly? Because he embodied the desire for quality, taste, and adventure that modern men and women seek amid the chaos and stress of their daily lives. As James bond said in Casino Royale: " I never have more than one drink before dinner. But I do like that one to be a large and very strong and very cold and very well-made. I hate small portions of anything, particularly when they taste bad." It's hard to disagree with that.
Adapted from the book – Shaken Not Stirred – A Celebration of the Martini.
You might also like: Bloom Lillet Tini cocktail and Gibson martini.
Cheers!