The Tour De France Bicycle Race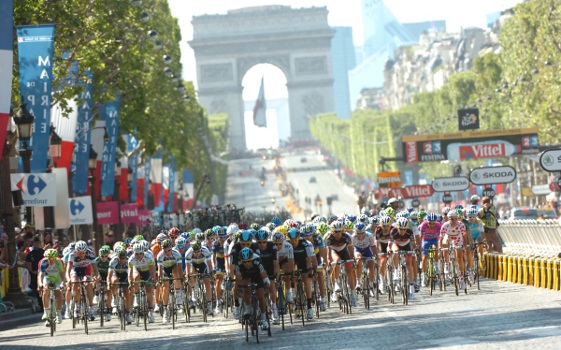 The Tour De France Bicycle Race
The Tour De France was founded in 1903. It is run over a course of more than 3,000 km (1,800 miles)  mostly in France, but occasionally in parts of neighboring countries. It lasts for 22 days and comprises 20 daily stages and 2 days of rest. Riders are invited to compete as a team. Team members wear distinctive jerseys and are followed by a team car, which contains supplies. Riders are all professionals, competing for prize and endorsement money, which today runs into millions.
Each stage is considered an individual race. The riders may race in a group from the beginning to the end of a stage. The fastest rider on a stage wins that stage. A rider's time on each stage is added up over the course of  The Tour , and the individual with the lowest aggregate time is the winner. It is possible for a rider to win the overall race without winning a single stage.
The Tour alternates between running clockwise and counter-clockwise around France every year. Some stages cover flat territory, while others pass through hilly areas, and the most difficult consist of punishing climbs through the Alps. Often, the riders who win a few of the mountain stages wins the race. The Tour De France finishes on the Champs-Elysées, Paris.
Explore the French drinking culture with the following cocktails: Dubonnet Cocktail, Perroquet, Kir Royale, Sidecar.
Cheers!