Unordinary Packaging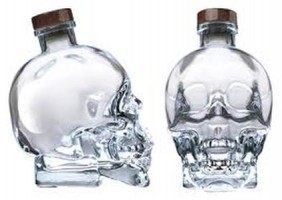 Consumers who walk into any liquor store are inundated with countless brands, types, sizes and flavours of various spirits products. Packaging is the most effective way to differentiate a product from thousands others to get the consumer's attention. The liquor industry is very competitive, worth billions of dollars so brands will create 'out of the ordinary' bottle designs to get part of the spirits action. Case in point, Canadian Crystal Head Vodka. The bottle is more popular than the spirit and it has become a pop culture item. People have found creative ways on how to use the bottle. The other cool thing about Crystal brand is that the 'Blues Brothers' Dan Aykroyd is a partner. As a bartender, I don't particularly enjoy working with these odd shape bottles because I have small hands, and they are awkward to handle. I know, I know… practicality is not part of the design process. They certainly look fantastic on the display shelves in any bar. You should visit youthedesigner.com, if you are interested in seeing the top 100 unusual, creative and beautiful bottle designs.
---
Here are some funky, goofy, scary and original liquor bottles:
Kalashnikov Vodka – Russia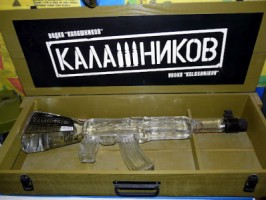 It is a bottle version of the famous weapon designed by Mikhail Timofeyevich Kalashnikov hero of the Russian army. The special edition was produced by Glazov distillery, and only 13,000 bottles were made. Interested in buying a bottle? You may find a few of them on ebay.
---
Hijos De Villa Pistol Reposado Tequila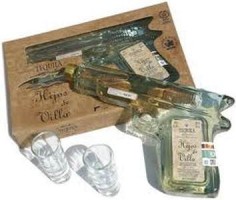 This limited edition tequila was made by Licores Veracruz distillery to honour the Villanueva-Barraga family. This pistol symbolizes the family's courage, and pride, also represents the Mexican family in the revolutionary era.
---
1800 Tequila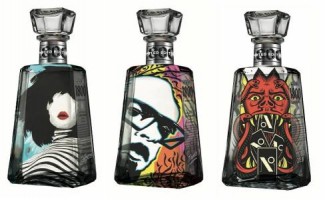 These special bottle designs are from the 1800 Tequila Essential Artist competition which included a submission by the American artist Shepard Fairy, the guy who gained attention and later some infamy, for his Obama 'HOPE' design campaign.
---
Wild Africa Liqueur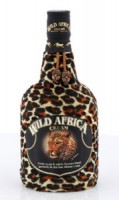 Wild Africa cream liqueur was created in 2002 and became an iconic, award-winning brand with its felt like Leopard skin bottle. The company was also known for having a completely female production staff in the early days, including the fork-lift driver.
---
Doña Carlota Reposado Tequila Cactus and Agave Heart Bottles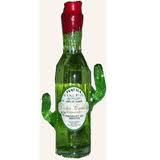 This tequila producer is better known for its crazy packaging than for its tequila.
---
Brew Dog 'End Of History' Beer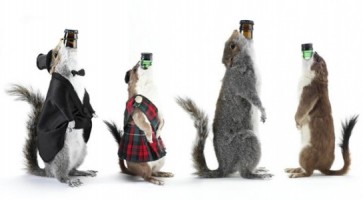 The BrewDog brewery is in Scotland. In 2010, they produced 12 bottles of 'End Of History' and smashed the record for the strongest beer at 55%alv, and the most expensive at $765 US, also voted the weirdest and shocking beer bottle packaging. The bottles were wrapped in real dead squirrel's skin.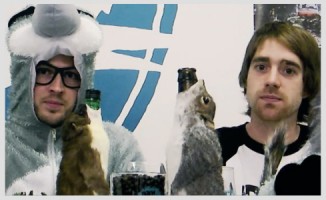 The founders of BrewDog promoting their 'End Of History' beer.
---
Popsy Cream Liqueur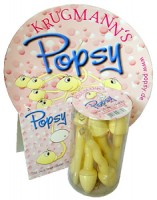 The Krugmann company specializes in liqueur mini bottles with sex themes. The mini sperm bottle gets the most press, and it is very popular at bachelorette parties. Only available on line.
---
Stawski Jazz Vodka Bottle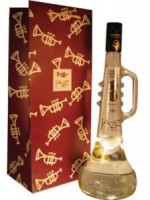 An original jazz trumpet bottle. Stawski debuted this bottle in 1991 for the International Jazz Festival in Poland, and the bottle was a reproduction of the festival's poster.
---
Medea Spirits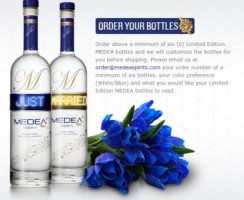 I guess, it was just a matter of time, a vodka with an LED message on the bottle. You can program up to six different messages with up to 255 characters, the message will scroll for three minutes and will turn off automatically, and the battery will last for one year. Yes, it is freezer proof, it is vodka after all. The Medea Spirits company is in Holland.
---
The Wardrobe of Absolut Special Bottles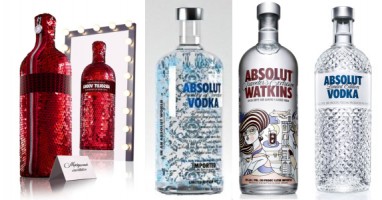 Swedish Absolut vodka is well-known for its incredible designs. here are a few creative bottles.
---
Have you found some wacky bottle designs? Feel free to share your discoveries with us.
(updated April 2017)